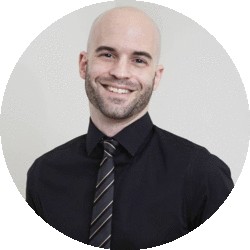 Director of Vestibular Rehabilitation
Justin attended Boston University's five-year program where he received his Bachelor of Science in Health Studies in 2002 and his Master of Science in Physical Therapy in 2004. Since then, Justin has held positions at the North Shore Long Island Jewish Health System. There he worked in both the inpatient and outpatient rehabilitation departments, including the brain injury rehabilitation program. Justin also presumed the role of Chief of Rehabilitation Services at the Raymond Naftali Ambulatory Center for Rehabilitation. Justin then joined H&D in 2012 and currently runs our Physical Therapy Balance and Vestibular Rehabilitation Program. Since completing school, Justin has completed continuing education in the areas of vestibular rehabilitation, cervicogenic dizziness, and neurological rehabilitation. Justin is also certified in Vestibular and Balance Rehabilitation from both Emory University and the American Physical Therapy Association. He is a member of the American Physical Therapy Association's Neurology section and is dedicated to helping those with neurological conditions and mobility impairments enhance functional abilities, reduce the risk for falling, and improve quality of life.  Justin currently works at our midtown location where he also co-teaches the "Balance and Exercise" semi-private classes.
OFFICE HOURS & APPOINTMENTS DURING COVID 19
In our continuing efforts to ensure the safety and well-being of our patients and staff during the COVID-19 pandemic, we are pleased to announce that we have launched a new integrated patient intake system that not only allows you to electronically complete and sign all necessary paperwork, but also to schedule and manage your appointments online.  This secure, easy to use tool is HIPAA compliant and available to you 24/7 using your personal computer or tablet.  In addition to the health benefit of reduced time interacting with front desk staff, with online scheduling you have the ability with a few clicks to:
View availability and pick the appointments that are most convenient for you

Choose from onsite clinics, home visits and telehealth options

​Make recurring appointments for up to 4 weeks in advance

Receive automated appointment reminders via email, text or phone call
ALL of our offices are OPEN and ALL of our specialties (Vestibular, Hand and Pelvic Health) are available! 
Click on the button to complete online COVID-19 Health Screen prior to your appointment