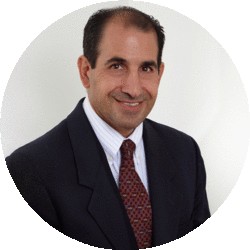 Partner & Physical Therapist at Yorkville Location
Helping people through physical ailments has become Rob's lifelong passion, one he first encountered when his father had to seek treatment for persistent back and knee trouble. Rob began doing volunteer work at physical therapy practices a family friend owned in Brooklyn and Staten Island. Inspired, Rob went on to earn Bachelor's (Hunter, 1991) and Master's (NYU, 1996) degrees in Physical Therapy. His formative clinical years were at the highly-regarded Rusk Institute of Rehabilitation Medicine, at NYU Medical Center. Rob also became McKenzie certified while working at Rusk. Rob met Greg Hullstrung while both were working at Rusk, and the two launched H&D Physical Therapy in 1997 in a small, ground-floor office in Tudor City. Rob has become expert in functional approaches to physical therapy, core stabilization and manual therapy.   Rob wants his patients to return to full participation in the activities they enjoy. In his spare time, Rob likes to play softball, ski, and travel with his family.  Rob currently works at our 88 street location and midtown location.
OFFICE HOURS & APPOINTMENTS DURING COVID 19
In our continuing efforts to ensure the safety and well-being of our patients and staff during the COVID-19 pandemic, we are pleased to announce that we have launched a new integrated patient intake system that not only allows you to electronically complete and sign all necessary paperwork, but also to schedule and manage your appointments online.  This secure, easy to use tool is HIPAA compliant and available to you 24/7 using your personal computer or tablet.  In addition to the health benefit of reduced time interacting with front desk staff, with online scheduling you have the ability with a few clicks to:
View availability and pick the appointments that are most convenient for you

Choose from onsite clinics, home visits and telehealth options

​Make recurring appointments for up to 4 weeks in advance

Receive automated appointment reminders via email, text or phone call
ALL of our offices are OPEN and ALL of our specialties (Vestibular, Hand and Pelvic Health) are available! 
Click on the button to complete online COVID-19 Health Screen prior to your appointment