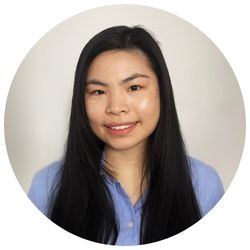 Fanny earned her Doctorate in Physical Therapy and Bachelor's in Health Sciences from Drexel University. With a diverse background in various healthcare settings, including acute care, outpatient neuro, and outpatient orthopedics, she has honed her skills as a physical therapist. Fanny's treatment approach is rooted in a strong multi-systems perspective, addressing patients from both anatomical and holistic viewpoints.
Fanny's true passion lies in working with patients who suffer from vestibular and other neurologic disorders. She possesses a LSVT BIG certification, demonstrating her expertise in working with individuals with Parkinson's disease. She derives great satisfaction from developing comprehensive programs tailored to each patient's unique needs, focusing on achieving personalized and functional goals.
Fanny firmly believes that quality care can only be achieved through trust and teamwork between the therapist and the patient. Her treatment specialties encompass orthopedics, post-surgical care, neurologic rehabilitation, and vestibular therapy. Fanny's dedication and commitment to providing exceptional care make her a valuable asset to her patients' recovery journeys.
Treatment Specialties: