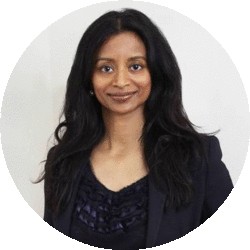 Physical Therapy  / Yoga / Pilates / Ayurveda
Physical Therapist at Upper East Side Location
Maya J. Foley, DPT, PT, CPI, HHC, RYT Physical Therapy/Yoga/Pilates/Ayurveda Physical Therapist at Upper East Side Location Maya is a New York State licensed Orthopedic Physical Therapist, Registered Yoga Therapist, Polestar Certified Pilates Instructor, and an Ayurvedic Holistic Health Coach. She graduated with a Masters of Science in Physical Therapy in 2002 from Columbia University, and received her Doctor of Physical Therapy in 2013 from Temple University. She is a holistic practitioner who does one-on-one manual therapy, combined with Yoga and Pilates, with an emphasis on treating the whole person, using Ayurvedic healing recommendations, which focuses on healthy living, with therapeutic measures that relate to physical, mental, social and spiritual harmony. Maya has a wide variety of clinical experiences in outpatient sports medicine practices, hospitals, and rehab centers since 2000. She has worked with a diverse patient population including athletes, and pre and post-surgical patients. She has taken extensive yearly continuing education courses with the Institute of Physical Arts, Maitland, and Mulligan, as well as attended numerous conferences since 2000. During her free time, she enjoys yoga, running, hiking, rock climbing, Ayurvedic cooking, reading and volunteering. She has worked the medical tent for the Brooklyn half marathon, and the New York City Marathon. She has traveled extensively in Europe, Asia, and the Americas. She also speaks Spanish, French, and Malayalam.
OFFICE HOURS & APPOINTMENTS DURING COVID 19
In our continuing efforts to ensure the safety and well-being of our patients and staff during the COVID-19 pandemic, we are pleased to announce that we have launched a new integrated patient intake system that not only allows you to electronically complete and sign all necessary paperwork, but also to schedule and manage your appointments online.  This secure, easy to use tool is HIPAA compliant and available to you 24/7 using your personal computer or tablet.  In addition to the health benefit of reduced time interacting with front desk staff, with online scheduling you have the ability with a few clicks to:
View availability and pick the appointments that are most convenient for you

Choose from onsite clinics, home visits and telehealth options

​Make recurring appointments for up to 4 weeks in advance

Receive automated appointment reminders via email, text or phone call
ALL of our offices are OPEN and ALL of our specialties (Vestibular, Hand and Pelvic Health) are available! 
Click on the button to complete online COVID-19 Health Screen prior to your appointment