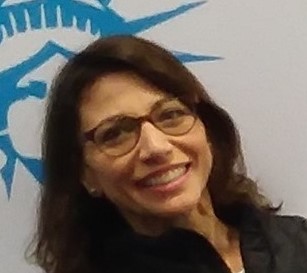 DR. ANGELA RITIENI, PT, DPT is a NY State Licensed Doctor of Physical Therapy, with Bachelor's in Health Sciences, Master's in Professional Studies of Physical Therapy and Doctorate in Physical Therapy.
She is also a Certified Running Technique Specialist, Certified Exercise Specialist & Health & Fitness Specialist with ACSM & a Client Advocate.
Pursued and has extensive training in running injury prevention, intervention and performance with various running seminars throughout NYC and Boston, extensive training in manual therapy with The Institute of Physical Art, received dedicated instructions in current evidenced based orthopedic practices with NYU and inherently pursued health, fitness and wellness instruction with ACSM. She is also Pilates Mat and USATF Trained. She is currently pursuing Graston Technique Certification. With strong belief in sportsmanship and wellness, she is no stranger to sports, the arts, community nor competition; during her school years she competed and was placed as second singles on her tennis team, sang as second soprano vocalist in chorus- achieving several acapella opportunities, volunteered for her local soccer teams, school track team and a women's health and wellness center while in school. After graduating with her Master's she dabbed in martial arts, tumbled in gymnastics & dove into weight lifting & running placing 2nd in two natural bodybuilding competitions. She achieved best poser status in final competition which demonstrated strength and skill in utilizing dance & movement. She also taught Pilates mat instruction for her community and private clients and currently volunteers for various running medical teams. She continues to advocate for exercise via social media outlets and enjoys strength training, running, racing in one milers and 5K's. Dedicating her life to the spirit of movement, her patients and career Dr. Ritieni, PT, DPT, not only pursued exercise experiences for herself and community, but also experienced a vast array of all clinical settings from pediatrics to geriatrics, and vestibular rehab to sports medicine, so to truly be a Direct Access Practitioner for the Community.
She is committed to quickly resolving your immediate pain or performance issue, dedicated in educating you with self-management strategies to prevent the issue from becoming chronic or re-occurring and driven to have you perform better than before. She welcomes you to set up an appointment with her so that you can live your best functional & exceptional athletic life yet!
****She speaks Intermediate Italian, Beginner's Spanish and French!
OFFICE HOURS & APPOINTMENTS DURING COVID 19
In our continuing efforts to ensure the safety and well-being of our patients and staff during the COVID-19 pandemic, we are pleased to announce that we have launched a new integrated patient intake system that not only allows you to electronically complete and sign all necessary paperwork, but also to schedule and manage your appointments online.  This secure, easy to use tool is HIPAA compliant and available to you 24/7 using your personal computer or tablet.  In addition to the health benefit of reduced time interacting with front desk staff, with online scheduling you have the ability with a few clicks to:
View availability and pick the appointments that are most convenient for you

Choose from onsite clinics, home visits and telehealth options

​Make recurring appointments for up to 4 weeks in advance

Receive automated appointment reminders via email, text or phone call
ALL of our offices are OPEN and ALL of our specialties (Vestibular, Hand and Pelvic Health) are available! 
Click on the button to complete online COVID-19 Health Screen prior to your appointment